Key Features
• Legendary TEN Platform
• Dynamite® 60A Brushed ESC and 12T Brushed 550 Motor
• Spektrum™ STX2®/SRX200
• MAXXIS Razr MT Tires
• Independent Front and Rear Suspension
• 4x4 Driveline with Adjustable Differentials
• Coil-Over Oil Filled Shocks with Pre-Load Adjustment
• Composite Chassis with Bottom-Loading Battery Tray
• Waterproof Electronics
Whatever is in its way, the Losi® TENACITY® SCT Short Course Truck can go through it. Taking several design cues from Team Losi Racing®, this SCT is built on the original TEN platform-known worldwide as one of the toughest platforms around. The TENACITY SCT includes a full metric hardware package and was design to be tough and tunable thanks to its race-engineered composite chassis. The bottom loading battery makes it easy for quick battery changes and the entire waterproof power system uses Dynamite® 60A ESC and a 12T brushed motor for speeds of 25+ MPH right out of the box. Drivers stay in control with a Spektrum™ STX2® with a Spektrum Receiver and scale to size Maxxis Razr MT tires. Finally, the TENACITY® SCT features an updated body with your choice of either Method Wheels or Fox Racing Shocks graphics to stand out wherever it goes. You get all this and more from the brand that represents the pinnacle of performance.
What's in the Box?
(1) Losi® TENACITY® SCT RTR: 1/10-Scale 4WD Short Course Truck
(1) Spektrum™ 2-Channel SRX200 Receiver (installed)
(1) Spektrum™ 9KG 23T Waterproof Servo (installed)
(1) Dynamite® 60A WP Brushed ESC (installed)
(1) Dynamite® 12-Turn 550 Brushed Motor (installed)
(1) Spektrum™ STX2®, 2.4GHz Transmitter
(1) 4 AA batteries for transmitter
(1) Product Manual
Legendary TEN Platform:
The legendary, high-performance TEN platform features a super-tough composite chassis and the ability to adjust the vehicle suspension and drivetrain for any condition.
Independent Front and Rear Suspension:
The front and rear suspension provide amazing handling with a consistent feel and the ability to soak up bumps. It all adds up to a truck that's dialed in for maximized performance right out of the box.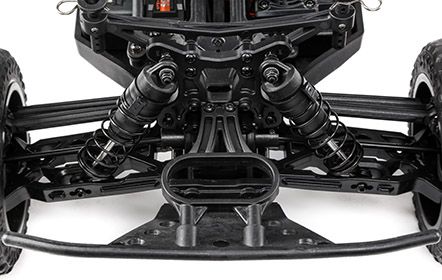 4X4 Driveline with Adjustable Differentials:
Full-time four-wheel drive provides increased traction and handling. The front, center and rear differentials can also be tuned for various conditions. Included with the TENACITY SCT is a center differential that allows the power to bleed to the front or rear and allows the vehicle to handle the roughest terrain.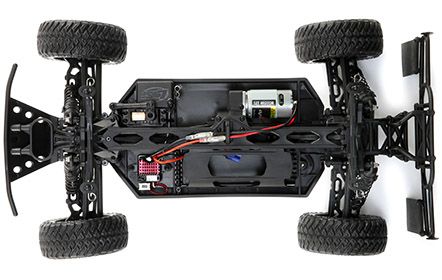 Coil-Over Oil Filled Shocks with Pre-